Mini Security Camera with Night Vision
A9WIFICAM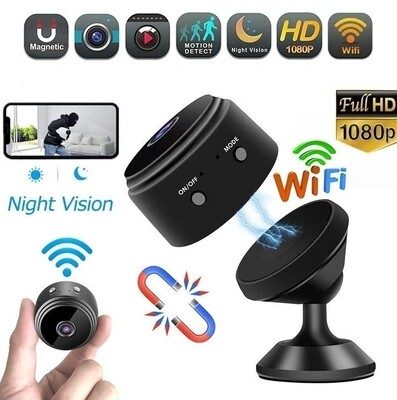 Cameras
Expand the functionality of your android box by adding a fully functioning security camera with night vision. Simply download the required software onto your Android or IOS smartphone or tablet and connect to your camera to see a live image from anywhere.
These cameras have a built-in battery and will operate even when not connected to your android box. When the power goes out, these cameras can still record video using its micro-SD card (not included)
Each camera has a built-in magnet that allows you to attach the camera to any metallic surface or use the include camera stand. After a full charge, you can move it outside to monitor the kids as they play in the backyard.
These are fully functional IP camera and do not require an android box to function; however, they do need to have access to a USB port to recharge.
Specification:
Strong magnetic adsorption
Suitable for personal, home, store monitoring
Can be used for law enforcement, driving, or cycling recorder
1080P HD, 150° wide angle
Function: Loop recording, Built-in hotspot monitoring, APP remote control, Motion detection notification, Working while charging
The camera can be a hotspot and can connect phone even no network (indoor: 10M, outdoor: 30~50M)
With 6 IR night vision LEDs, there is no light when night vision mode
Built-in high-performance polymer battery; 320mAh can record about 2 hours
Max support 128GB TF card (24-hours recording can store for 30 days, card not included)
Color: Black
Package included:
1 x Camera
1 x Magnetic Rotation Mount
1 x Adhesive Magnetic Sticker
2 x USB Cables (one stiff mounting cable)
1 x User Manual