T95 with Android 10
3183638118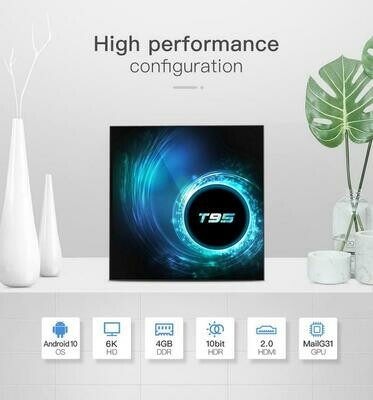 This is the newest T95 Smart TV box box for 2020. It features Android 10, 4GB of RAM and 32GB of eMMc storage for Canadians. The T95 Max has a whopping 4GB of RAM, making it the best low-cost boxes available today.
The T95 Max features the Allwinner H616 Quad Core ARM Cortex A53 and Android 10 and 4 GB of DDR3 RAM. It's an incredibly price for an android box in Canada and the T95 Smart TV box supports 6K resolution.
This article shows you all the manufacturers specifications and images. The all new T95 Smart TV box is the best android box for 2020 in its price range.
Returns and Exchanges
Buy with confidence; we give a full 30 days to exchange your purchase and 14 days for a refund. Any product that is returned must be in the original packaging and without damage to the product or product packaging. Accessories, including the retail box, manuals, cables, and all other items originally included with the product. Your return must be in the same condition as when you first received your order.
Returns are subject to restocking fees of 10% of the purchase price. Return shipping fees are not refunded.
Custom programming is not refundable.0
1 x backlit mini-keyboard and mouse - save $10 (10)
Custom setup with Canadian151 and Kodi 18.6, and assorted APKs (40)